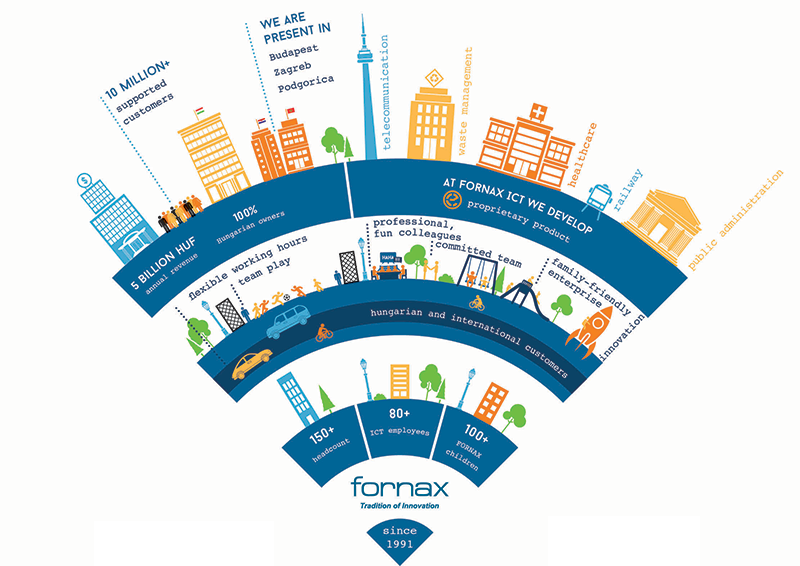 About Us
Fornax, the 100% Hungarian owned IT company group has been engaged in delivering IT solutions since 1991. The company managed to stay on the IT market in times of economic challenges, and even improved its standard of services, becoming a crucial IT player in Hungary and the whole Central European region by 2012.
As a member of the company group Fornax SI offers a full range of services in the areas of enterprise resource planning, IT system integration and activity outsourcing, and is a leader in consulting connected to these areas as well. Our colleagues have several years of experience in IT, ERP and related financial areas, they have spent many years working in different industries. The customers are usually corporations active in the financial, utility and industry sectors.
The SAP line of business within the company came to be in 2011, and the team of experts consists of senior consultants who have been working together for the past 15 years, participating in numerous SAP installation, version change, enhancement and system support projects.
Fornax SI is the proud owner of three SAP acknowledgements due to its successful cooperation with SAP. In 2013 SAP bestowed Fornax with the public sector partner certificate, and in 2014 Fornax received the gold prize of SAP Quality Awards for the installation of the unified enterprise resource planning system of the Hungarian Electricity Ltd., the contractor of which was Fornax. And the newest acknowledgement is the 2014 SAP Partner Award, which is presented by SAP to its most successful partners each year. That year Fornax SI came in first in the category of medium sized enterprises. The project that earned the acknowledgement was done by the Hungarian National Asset Management Inc., dealing with the centralized procurement of SAP licenses for the Volán companies.
Since the beginning Fornax SI has been operating in accordance with the ISO 9001 standard quality management system, which is a prerequisite of our operation and a means to deliver high-quality IT and other tasks on time. In 2014 the company was one of the first to apply the IT security management system based on the ISO 27001:2013 standard. This new certificate ensures the greater safety of paper based and electronic sent and received information.